This is week four of "My Young Adult Years," guest hosted by Ginny Marie over at Lemon Drop Pie. Each Monday or Tuesday, I will be posting on my Young Adult Life edition of Mommy's Piggy Tales.
Ah, the taste of independence....
Coming off a
second summer
of
working
at
Camp Hope
, an inner-city summer program, I had a taste of independence, close friendships, and a sense of purpose. I was comfortable with where I was, but changes were coming.
After spending a year at Bible college,
I made the decision to transfer to Pittsburg State in Pittsburg, KS to pursue a degree in elementary ed. It was hard leaving Montica and the safe environment I had, the students I knew, the teacher who cared, the roommate I loved like a sister.
I left that morning
with my '72 Chevy Malibu packed with stuff I thought I would need. I had no idea that, what I needed most was my spare tire for that blow-out I would have 30 miles from PSU. I was on a dusty side road unloading my crammed trunk in search for the tire iron underneath EVERYTHING, crying and ready to home. I tried in vain to get the lug nuts off that tire, but it wouldn't budge. God sent a fatherly looking farmer who had a gazillion more muscles than I to wrestle them off, change my tire, and send me on my way.
Because expenses were tight
, I opted to move into a co-ed dorm and was supposed to have a room to myself, but when I arrived I found things much different. I circled the block, about went down a one-way street, just to find the dorm I was to move into. I was very intimidated, felt out-of-place, and scared. I couldn't even walk up those steps. I had never felt so alone. I drove around until I found a payphone and called my mom and told her I was coming home. Needless to say, she told me I couldn't come home and I ended up staying to finish my degree.
I soon found Marta
, my roommate, was very young, fresh from HS and eager to immerse herself in the sorority life. Earning a degree was the furthest thing from her mind. There were no other single rooms open, so I had to make the best of it. Coming in late many nights, sometimes drunk, she was not the quietest. Finally after she vomited on the floor after one of the parties, I got her into her bed, cleaned up the mess (I had just mopped our floor that day), and headed down to the study room to cool down. The next morning, I told her that was never going to happen again, and it didn't. I spent a LOT of time in that study room because I quickly developed insomnia and a deep loneliness.
Staying in the dorm was an unpleasant experience,
but eventually I made a few friends, but had little in common with them. I was so thankful for
Campus Christians
, a non-denominational ministry, where I felt most at home. Montica and I begun visiting there while students at Bible college (30 minutes away) because my brother attended PSU and was part of the ministry group. What a blessing it was! We went on retreats, had Bible studies, pizza parties, table tennis tourneys, just hung out, talked, and formed tight friendships. It was like a huge family with lots of brothers and sisters. Don, our campus minister, knew right where we were all coming from (he has been there since '78). His easy-going spirit put us at ease, as he guided and encouraged us.
Guys:
There were about 6 guys in that group that really stood out - can I say
oo-la-la
? They were athletic, easy going, fun, very friendly, and unattached. I don't remember the first moment I met him, but he was cute, but there is no way a guy like him (former football player) would notice a girl like me...
I sat in the cool, dark study room in an old pair of sweats, listening to the night sounds, waiting for sleep to take hold. A shadow darkened the door way and the light flipped on, blinding me momentarily, as the night watchman stepped into the room.
"Hey Lynnet! Whatcha doing sitting in the dark?
"
Huh?
Oooooo, can you guess who it was? Yep, it was
HIM
!!! From that point on, each time he made his rounds, he would stop by the room and, if I up, we would sit and talk about everything. Before we knew it, we were good friends, buddies... Sometimes he would slide the comics page under my door with some note written on it. Once, Marta and I tee-peed his room at the campus house, removed labels from his soup cans , short-sheeted his bed, and more. The next morning, he left the comics, but the note said to beware, because the Big, Bad Wolf (BBW) was on the prowl and was going to retaliate a troublesome sheep... Soon he started signing the notes with BBW and always addressed them to Sheep. Did I mention he smelled so good - Gotta love Old Spice Musk!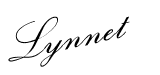 If you would like to read more Piggy Tales from other ladies, hope on Over to Mommy's Piggy Tales. If you would like to join in and start recording your own Piggy Tales, contact Jana at Mommy's Piggy Tales to find out how (

jannajoy25 (at) hotmail.com)

.

If for some reason you missed any of my previous posts, you can find them here.