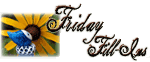 I've been wanting to do
Friday Fill-In
by 1. The world is
in need of a Savior
. 2.
"Wahoo! Your Shurley English came today."
was the last thing I said. 3. I wonder
why cats can't sleep at night like the rest of the house?
4.
He is the same today as He was yesterday and He will still be the same
at the end of all things. 5. There's something to be said for
having all the laundry done. Spending a relaxing day with the family and hearing their laughter ring through the house.
6. Somewhere warm, with a good book and my Honey

is where I want to be.

7. And as for the weekend, tonight I'm looking forward to possibly scrapbooking (didn't get that far in life), tomorrow my plans include basketball practice for Youngest and worship practice and Sunday, I want to fully worship, write lesson plans, & relax!