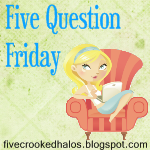 Five Question Friday
I feel like I've not posted all week,

though I'm working on a giveaway to be posted soon. I love the Five Question Friday because though a few random questions, you can get to know a person a little bit more. Have fun!
1. Have you ever testified in court? For what?
Um, NO! I've never been in court or a police station (knock on wood)
.
2. Do you still have your wedding dress?
Yes, hanging in the back of my closet, still stained with oil that I stepped in because they had just put it on the street the day before. I never liked it , but my mother did
(all $500 of it)
. When Honey and I get married again, we're eloping and I'm picking out a dress I like. Something strapless (no ugly BIG sleeves), no poofiness or lace. last year for our 20th Anniv. we talked about renewing our vows and my two boys were arguing about who would walk me down the aisle. That made me crumble in tears....
3. Is there a special place you like to go when you're happy, sad, stressed, etc.?
Sadly, I really don't have a place to go that the kids, pets, or anyone else won't follow. I guess, the bathroom would have to where I can go to be by myself. I can soak in the tub, read a book or watch TV...
4. If you have kids, do they sleep with you? If you don't have kids...will you let your kids sleep with you when/if you have them?
Our kids are 18,17, and 12, so they don't sleep with us, but when they were little they would somehow mysteriously end up in between Honey and myself. We never could figure that out. Our kids were wigglers and kickers - no sleeping with them. The only one that we really had sleep with us was Youngest because of his heart issues and we couldn't let him cry until he was a year old. It was a very long year.
5.
Do you watch late night TV?
We try to have the TV off by 10, but sometimes when I can't sleep, I'll look at our saved programs and do some catching up. We really don't watch a lot of TV and I'm too tired to stay up past 10.
So what about you? This post is linked up with Five Question Friday.