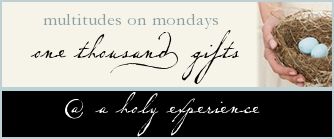 With a full week and a growing "Do-List", I should not have been surprised when God gave me the following:
Peace I leave with you; My peace I give to you; not as the world gives do I give to you. Do not let your heart be troubled, nor let it be fearful. John 14:27
Also we have obtained an inheritance, having been predestined according to His purpose who works all things after the counsel of His will, Ephesians 1:11
We are destroying speculations and every lofty thing raised up against the knowledge of God, and we are taking every thought captive to the obedience of Christ,
2 Corinthians 10:5
Deep Sigh...
Teacher's answer books

Sleeping all night

Microwave ovens

college scholarships

Sturdy board books for little ones

Public libraries

Homemade chocolate cake with homemade whipped filling

laughter at the dinner table

Dandelions - sign of Spring and fun for little ones

Dimpled grins

Mops to clean up vomit