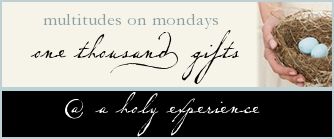 Morning kisses from the kids
Homemade sandwich bread
Oldest, working until 1:30 a.m., still got up for church the next morning.
Children, getting up on their own, honoring commitments made
Sirens sound- dedicated emergency workers give to save and protect
Mentors in marriage, showing through example.
Devotion of Lady, who should be fearsome, yet gentle and forgiving to the youngest, watchful, loyal
Watching fireworks with family
Sunday naps with Honey,
4th of July spent with new friends from other countries

Freedom
Seeing happiness and joy through other eyes, a joyful Japanese student
Conversations with dear Cousin Raine
Only, growing in confidence, learning independence and responsibilities
Mission trip to Belize for Oldest, paid in full, by hard work for others
Oldest, continuing to work, to help pay for Only's trip to Belize, secretly putting money on her acct.