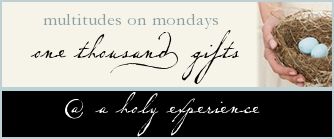 Some recent Gifts of Grace
Lillies of the Valley, silent and fragrant bells, lure me to their bed
School House Rock play was a fantastic field trip and got our toes tapping
Laughter around the dinner table
Fresh muffins from the oven
Hug from my almost graduated son
Release from cancer, rejoicing in the midst of grief
Cool spring rain
"Mommy can you rock with me? I don't feel so good." The 12 yr. old body of Youngest, turns, and nestles, searches for that one comfy spot.
smell of bacon frying
Friends surround grieving families
Boy Scout Troop leaders
Gathering of friends, laughter, good food, love
Nerf gun wars between teens and young grade schoolers... Jury is still out on who really won.

Three years of learning, growing, trials, revelations, and acceptance with "W". His last day is Friday as his dad is being transferred.

"W" with his latest creation

Listening to Miss Izzy reading Brown Bear before nap time.