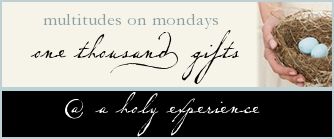 In early March I started reading One Thousand Gifts by Ann Voskamp and began my journey to record the gifts. Many have been posting their 1000 gifts on their blogs and I'm finally joining in....
I also have page just for my Gifts of Grace where I've started listing my 1000 gifts.
59. Comfy couches on stormy nights.
60. Dryer on a cold rainy day.
61. Sleeping in past 7 a.m.
62. Honey replaced our leaky kitchen faucet.
63. Teens doing their own laundry.
64. Dinner with a friend.
67. Printed words because I can't remember it all
68. The beauty in the harmony of voices
in worship
69. More than one pair of shoes
70. Boudrequx's Butt Paste for yucky diaper rashes.
72. Nap times for little ones